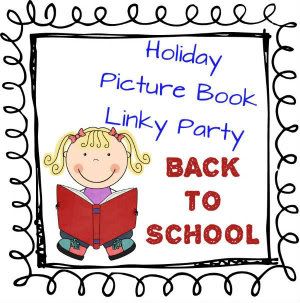 I'm linking up with Chrissy at First Grade Found Me to share different books I use for different Holidays in my classroom. We are starting off with books we use for back-to-school and will be doing more throughout the year for each holiday.
I recently posted about Must Have Picture books, but this will focus on the beginning of the year.
Chrissy, of course loves this book she organized a HUGE alphabet exchange with it. However, it's a great 1st week of school book, there are so many activities out there. My favorite is to make a palm tree and attach it to a paper bag. I have a sheet of letters of the alphabet. The students cut them out and put "act-out" the story, saying the sound of the letter as they climb the tree. Ex. student picks up a 'b', they say /b/, /b/, /b/ and then "plop" the letters in the bag. They repeat with the rest of the letters.
Lilly's Purple Plastic Purse
by Kevin Henkes is super (especially if you love Purple

) which I do. It's a super cute book. Lilly wants to show off all of the cool things she brought to school, in her cool purple plastic purse. (can you say alliteration?) Her teacher keeps asking her to wait, but she doesn't want to. She gets so upset that she draws a note of him being a "big, fat, mean teacher". When the teacher finds it, she thinks she is done for, but her teacher is a special man. He loves her and explains it all in the end.
The Kissing Hand

by Audrey Penn--of Course. I read this to my own children before the first day, and put my kiss in their hand before they go off to their rooms. There are great crafts out there. My favorite is to do a hand-print with a

red

heart in the middle of the palm. I paint the whole hand one color and make a little

red

heart shape in the center. Hand-prints are great because every mom will keep it forever!
A Pocket Full of Kisses

is the sequel to the Kissing Hand. One year, a student bought me this book. Chester gives his mom the kissing hand when he leaves for school. Oh, I could just cry, because it always makes me think of my own kiddos.
Alexander and the Terrible, Horrible, No Good, Very Bad Day

by Judith Viorst. "I think I'll go to Australia" if you haven't read this, you won't understand. The boy is a pessimist. Everything is terrible and awful and one big, hot, mess! Each time something happens he references Australia. It's just plain old funny. But the teaching point is, we all have bad days and bad moments. Especially if that is all you focus on. So try to focus on the positive--Like traveling to Australia one day.
If you haven't had a chance and you are reading this before August 2nd, I am having a giveaway.
Click here and it will bring you there (not to Australia, I promise)
Happy Reading,