That's right, I've got a new Blog Design. I feel like I hear some background music now, bum, bum, bum, bum, bum, bum or cha, cha, cha, cha, cha, hey! I found the Honey Bunch Blog D
esign te
am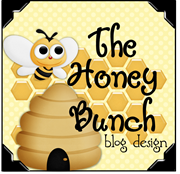 And could not be any happier! These ladies, Misty and Erika, were so unbelievable. They were contacting me every step of the way and produced a design, that is perfect for me. I asked them to somehow include my children--as a bird or a bee or something like that. 1 pink, 1 blue, is what I originally said. Can you see them? Can you find my kiddos? That's right, they are the butterflies! It's my little hidden secret, which of course I am sharing. Butterflies are one of those special little creatures and I am so blessed that Erika decided to use them.
If you ever decide to re-do your design, I highly recommend this dynamic duo.
Just another reminder I am having a Give away, to help me get to 100 followers. If you haven't entered yet, click here, and see what you can win.