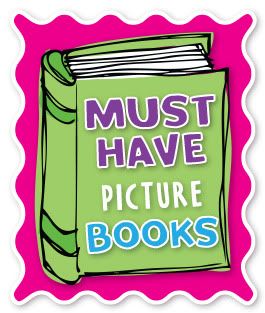 I'm linking up with a bunch of teachers with my Top 5 6 must have picture books.
Well here goes!
1. My Mouth is a volcano
This book is great if you have students who can't stop calling out! I love it!!!!!!!!! It teaches kids to take a deep breathe, blow out the words, and then breathe them back in when they are called on. It's Fabulous!
2
. The Judge: An Untrue Tale
This was the First book I bought as a teacher. My college Reading Professor

Mrs. Voelker

introduced me to it. I actually need to buy another one, because one of my students loved it even more than I did. Anyway the thing I love about this book is it has a repetitive rhyme: "Please let me go Judge, I didn't know Judge, that what I did was against the law, I just said what I saw" (see I have it memorized :0) It's a great way to get kids to Choral read!
3.
The Keeping Quilt
Patricia Polacco! Enough said. She is amazing and awesome and wonderful. I love her illustrations. After I read this book, I like to encourage my students to try and illustrate with pencil and only make the important items in color. Here's a peek at the inside of this book.
4. Chrysanthemum
Chrysanthemum, Chrysanthemum, Chrysanthemum! I love reading this story for the first week of school. It is a great way to teach your class, that everyone is different and you shouldn't tease anyone because of it. I also love how the Teacher is the hero of the story, and makes the girls realize that just because Chrysanthemum has a long name doesn't mean there's anything wrong with it. I love doing the voices of the whiny girls in this story--the kids love it!
And now a little known book called
The Tale of Meshka the Kvetch
I found this book when my school was closing and the librarian was giving away all of her older, much loved books. I quickly scooped up this little gem. First of all my grandmother was Jewish and would always tell me to stop "kvetching" (complaining). Now, I was raised in a Christian home, but my roots are in the yiddish/Jewish world. (I was Yenta in my 4th grade play of Fiddler on the Roof) But I digress, I love this book (Wait, I think I have said that about every book) First of all it teaches a lesson--STOP COMPLAINING! or you will get the Kvetch's itch! Your tongue will begin to itch, and low and behold everything will begin to come true. I usually break this book out when the kids have had enough of each other and can't stop tattling. No One wants an itchy tongue.
I have one more ( I know it's supposed to be 5, but I can't help it)
6. Stone Soup (see my post from March) I use all 3 versions, plus a reader's theater! Text to Text here we come!
Happy Reading,
Jessica