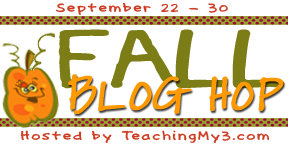 I'm linking up with
TeachingMy3.com
Here is my most recent fall fun activity!
Apples!
The apple shaped book comes from Kathryn Robinson--Just Write all year Long, First Grade. The apple writing sheet, I found on www.jmeacham.com fro free!



After a lot of cutting, students designed their cover and wrote a sentence.
We used this blank page, to create a circle map and brainstorm adjectives using our senses.
Another cover example
Of course, you can't write about apples unless you eat them. We tried Royal Gala and Granny Smith.
YUMMY!
Next Week I will be starting my Fall into Writing unit. I can't wait to get started!